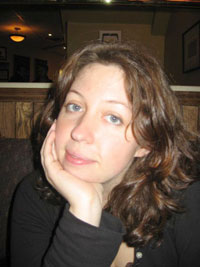 (It's all)
About Me
I was born in Bridgewater, Nova Scotia in 1975. As a child I spent the summers living on the South Shore of the Province and the winters living in Halifax. Due to my father's profession as a sculptor, I traveled with my family to Italy four times when I was between the ages of 10 and 18.
After high school I first studied at Saint Mary's University, receiving a Bachelor of Arts degree with a Major in Anthropology in 2000. It was there that I became interested in Goddess mythologies of ancient peoples and their ceramic traditions. I then moved on to the Nova Scotia College of Art and Design University, receiving a Bachelor of Fine Arts degree in 2004. There I delved into various other disciplines but concentrated mainly on Ceramics.
I have been a member of the LaHave Craft Co-op since 2001, where I sells my work under the label of Rustic Revolution Pottery. I have also been a member of the Turnstyle Pottery Co-op since 2004, where I both produce and sell my wares. I work in earthenware and stoneware, using natural earth tones for my glaze palate. I make functional ware as well as functional sculpture, dealing mostly with goddess imagery. My studies in Zen and Pagan spiritual traditions has lead me to believe that the spirituality of everyday existence is of utmost importance. Through my work I try to bring a sense of calm, sacredness to every day objects.